Did you know BricsCAD Supports WMS?
Many GIS and CAD users might have missed the news that the latest release of BricsCAD supports the Open Geospatial Consortium's (OGC) Web Map Service (WMS) specification. BricsCAD 15.2, the low-cost AutoCAD work-alike was released in April 2015 and can access data from any map server supporting the interface standard.
The graphics below show BricsCAD connecting to, and loading data from a NearMap map server. NearMap is an Australian imagery company that provides data via WMS to GIS and CAD software.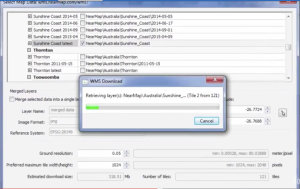 BricsCAD Connecting to a NearMap Web Map Service (Click for larger image)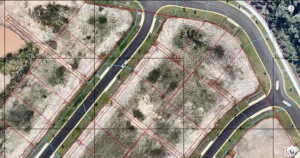 WMS Data Inside BricsCAD (Click for larger image)
BricsCAD is More than just a WMS Client
BricsCAD can do more than display map data from servers. It's a powerful CAD package on it own! And paired with tools from TCI Software, BricsCAD can tackle many demanding mapping jobs.
MapTools speeds up feature and attribute editing and cleans dirty data and text. It includes tools that simplify working with blocks, EED, layers, polylines, and text.
MT Symbols is a symbol library and management tool. The library includes symbols for public works, recreation, and vegetation as well as north arrows and scale bars. There are also symbols for use with BLM and USGS maps.
MT-Automation is a toolkit for automating BricsCAD workflows.
Adjust adds true rubbersheeting to BricsCAD. Unlike other solutions, it enables "non linear stretching in many directions simultaneously" and supports an unlimited number of data calibration pairs.
Curvefit works alongside BricsCAD to provide smooth, accurate, tangent linework from coarse contour lines and similar features. While making linework more attractive, Curvefit reduces both the number of vertices and the data file size.
Are you an AutoCAD user? Don't worry all of these TCI Software tools work with AutoCAD, too.
Curious? Try a free trial of any of these tools today!