RAMPF Group – A Curvefit Library User
There are two areas where we use Curvefit.
Optimization of scan data
We scan the mould cavities in order to produce from these data the counterparts, which are manufactured on CNC machines. The CNC code is generated by various 2D and 3D CAM Systems. A mould cavity can have individual contour elements in excess of 100 units and more. Each contour has between 1,000 to 20,000 scan points. With this amount of data all CAM Systems and CNC Controllers are overtaxed. With Curvefit we can reduce the amount of data dramatically. CAM Systems work much more efficiently with the reduced data density without losing any accuracy while calculating the toolpath and generating the CNC code!
Optimization of 3D Design data
We often get from our customers surface data. In the 3D CAD System we project 2D contours onto these surfaces. This operation results in contours with many geometry elements. With Curvefit we can reduce this data density to allow for an efficient and speedy 3D modeling process. Any 3D System will work faster if it has to calculate fewer data points.
I use the Curvefit Library as a software component in our projects.
The integration is very easy. The algorithm is extremely robust and reliable.  I appreciate the cooperation with TCI Software.
Reiner Krebs
Technical Software Development
RAMPF FORMEN GmbH
Allmendingen, Germany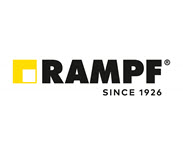 The RAMPF Group has been one of the leading manufacturers of steel moulds for the concrete products industry for decades. Our moulds are synonymous with forward-looking innovations, top technological standards and economic efficiency in concrete stone production.
Long-standing customers all over the world speak for themselves and the quality and diversity of our products.
RAMPF produces moulds for every type of stone, including paving stones, slabs, masonry, kerbstones, grass pavers and landscaping stones. The potential for creativity in terms of shape, geometry and surface is virtually unlimited. Our clients in the building materials industry value our expertise and creativity within a cooperative partnership.